Description
Target audience
Service organizations that want to get their organization in order can use USM, the Unified Service Management method. USM training deals with the management system of service providers. The participant learns to make practical choices with USM for managing his own organization. These choices are well-founded and easy to understand because they are based on an easy-to-learn but very powerful service management architecture. This creates insight and tranquility in the organization, its management, and its routines - which is a precondition for a structural improvement of the organization's performance. USM is an essential asset for any supply chain or network of service providers.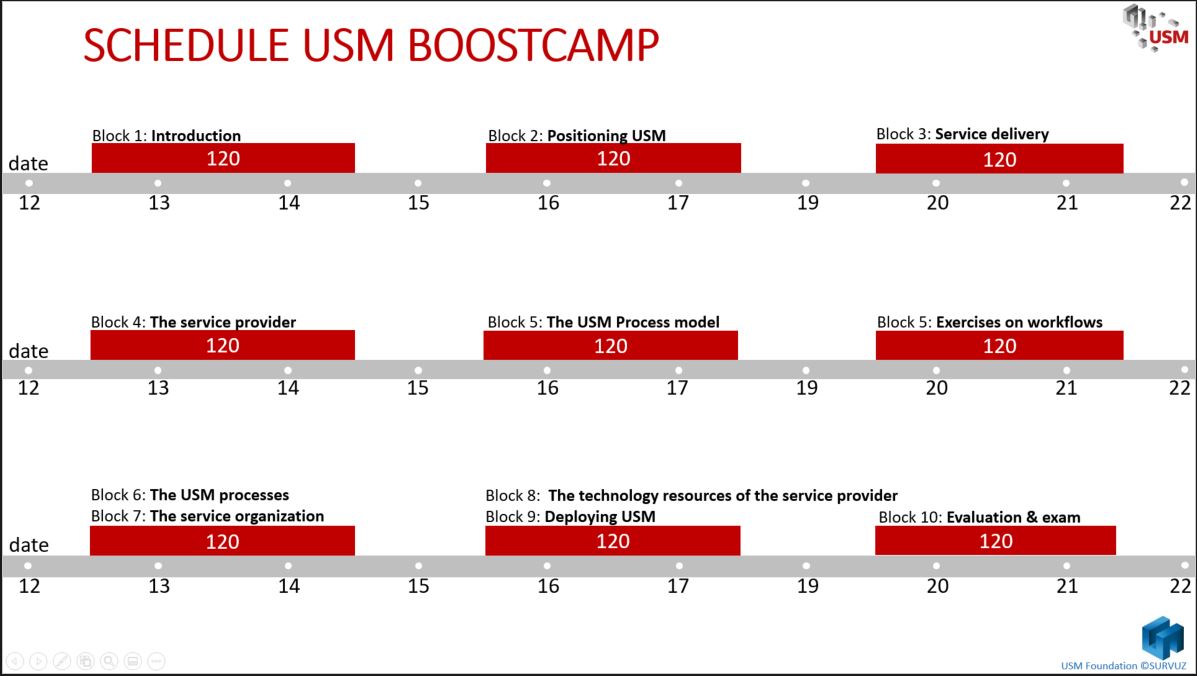 Standardization
Employees learn to understand each other better with USM. Standardization of routines (across multiple disciplines and organizational units) is now within reach. Supporting tools can be set up more easily and effectively with USM.
Content
USM training emphasizes the process design of the service organization and its routines. After all, processes are the shortest and most efficient way to customer-relevant goals. USM goes one step further and focuses entirely on the workflows that ultimately define how the work is organized. Organizations that strongly focus on hierarchical or project-based routines - or even have based their organizational structure on it - can thus gain a lot in effectiveness and efficiency. The USM Boostcamp follows the content of the USM Foundation Syllabus.
The ONLINE USM Boostcamp offers the following:
Three days with nine two-hour blocks in an online setting
Full USM Foundation program, but with extra exercises where participants learn to translate the USM method to their own situation, and extra time for discussions
USM Foundation exam at the end of the third day, so that you can return to your office with a USM certificate in your pocket
Your personal ticket for the online USM study guide
Exams
USM knowledge is tested with the USM Foundation Exam. Successful candidates can (with their permission) be registered in the USM Register. The exam is included in the USM Boostcamp. The online exam is included in the USM Boostcamp.
Preparation
The USM method is easy to learn. You only require a solid dose of logical thinking, and the willingness to think out-of-the-box, as USM is very different from the old thinking of framework-based approaches with best practices as the basic guidance. Reading the book "The USM method" in advance promotes the effect of the training. Students can also study the USM Foundation Syllabus, which describes the training content in detail.
For employees in disciplines where there is limited attention for control and for management systems, an introduction training is recommended. This prior knowledge is sufficiently present in the IT discipline.
Group size
The training is suitable for groups of 4-6 participants. Where an onsite training may allow for up to 12 participants, the online setting limits this to a maximum of 6, so all participants can get proper attention in their learning process.
Language
The USM Boostcamp is delivered in English.